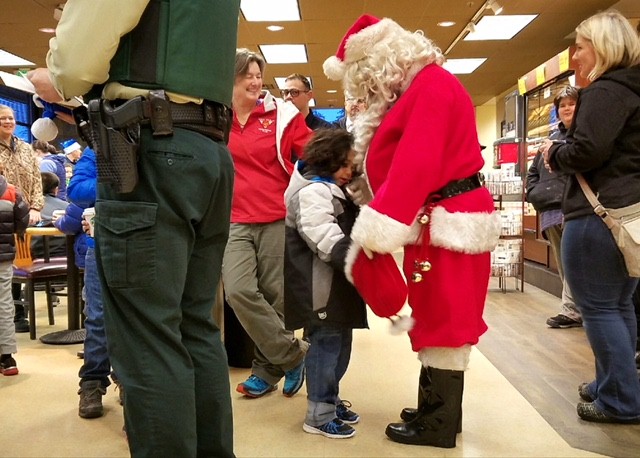 Juneau, AK (KINY)-The Alaska Peace Officers Association Capital City Chapter had its annual Shop With A Cop event Saturday. 31 kids went shopping with 31 officers.
The kids spent $100 on their loved ones, and Fred Meyer donated boxes of groceries for the holiday meal. The officers quizzed the kids about what they wanted for Christmas and after taking the shoppers and the groceries to the kids' homes, the officers went back to the store for gifts for their shopping partners.
Dee Ojard, a crime analyst with the Juneau Police Department has been organizing Shop With A Cop for years. One of her tasks is to call the parents or guardians of the children who are selected. She was touched this year by the nomination that came from a school counselor. A young girl was talking to the counselor about how her family wasn't going to have Christmas. The woman contacted Ojard and said the girl was trying to be so strong and so grown-up, but she was fighting back the tears. Ojard called the family with the good news that Christmas was back on and was overwhelmed with the excitement and the gratitude coming from the girl's Mom and Dad.
If you saw the shopping event, you would have seen a significant number of Department of Corrections uniforms. DOC officers from the Lemon Creek Correctional Center turned out in force, ten people, to help with the event. Officer Jared Andrews participated last year and wanted his co-workers to have the fun and uplifting experience he had. He was proud of how DOC officers stepped up to help.
15 year old Emma Douglas was one of the volunteer helpers, going shopping and labeling gifts for family members and snapping pictures of what a young shopper admired for himself. She also spent hours wrapping gifts at JPD after the shopping was over. Douglas says she just wants to give back to the community.