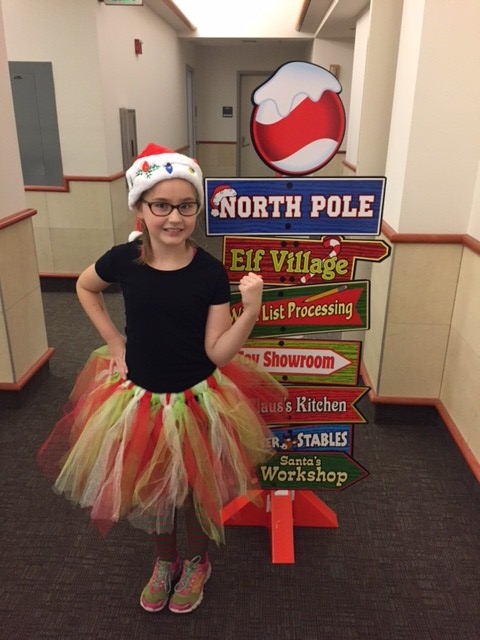 Reaghan Adams, daughter of a Juneau law enforcement officer, welcomes Aware Kids to the Christmas Party
Juneau, AK (KINY)-The Alaska Peace Officers Capital City Chapter hosted a Christmas Party at the Juneau Police Department last night. The guests of honor were 17 young people who live at the AWARE Shelter or in AWARE's transitional housing.
This is the second year Juneau law enforcement officers have brought their own families to have a party with kids living in Aware facilities. This year's party was paid for by the international non-profit group Random Acts, in support of the JPD led initiative, the Year of Kindness. Random Acts donated $3000 to APOA, who spent about $500 on the Aware party and about $2500 on Shop With A Cop. Shop With A Cop 2017 ultimately featured 32 young people shopping with 30 uniformed officers.
The was a last minute problem with the AWARE party that a local company stepped up and solved and that was Juneau Tours. The group was larger than expected and APOA was struggling with transportation. Juneau Tours offered up their Santa Trolley. Then owners Serene and Brett joined with the party partnering with some of the more shy kids, and drawing them out. The kids played board games and indoor golf in the hallway, which turned into more of an indoor hockey game. Fortunately the clubs and balls were made of a light plastic. Even the most determined 'not to have fun' teenager eventually gave in to the holiday spirit the officers brought. APOA President Shawn Phelps, who is also a sergeant at JPD, considered the event a huge success.