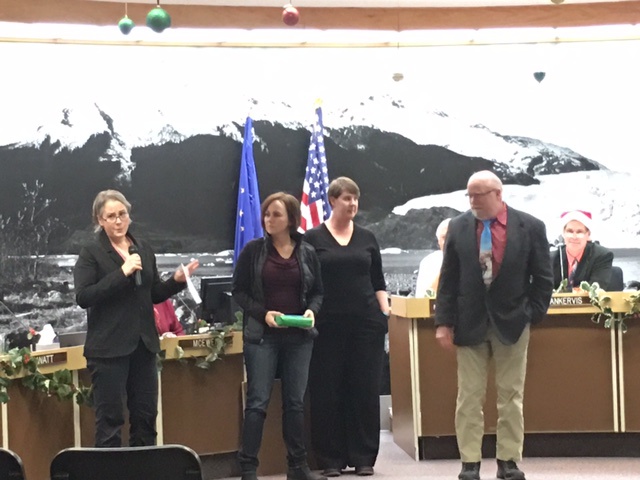 Juneau, AK (KINY) - The Juneau Assembly meeting went smoothly.
Things began with a recognition of Tom Wagner, who gave a speech following the applause of those in attendance.
"I want to say this, being a lawyer is an honor and a privilege. It's a great profession to get to help people in all kinds of different ways. I think my favorite legal job was this job because, I've got to work with a lot of down-and-outers, people who are poorer that qualify for a public defender. So they're in trouble and a lot times I can help."
"It's been an honor and a privilege to be a lawyer and working with the people that I work with; it has really been a great honor."
Members of the public pushed for further action on the Renewable Energy Strategy. One member said the issue goes beyond religion, political stance, or morals and must be addressed for the sake of future generations.
The consent agenda was approved without delay. The land negotiations between the city and Alaskan Brewing Company can also move forward. Communications Manager Andy Kline told us about that space and the possibilities.
"We've been in negotiation for that space for decades. I mean it has been a long-term thing that we've looked at forever because, it's directly adjacent to the original Brewery. The Brewery started on that very corner right next to the CBJ property. We've always grown out in the other direction to the right as you're looking at the brewery and this land will allow us to grow our operations to the left."
"That will allow us to potentially expand in the area of brewing equipment itself. We've always expanded in the capacity of tanks and production lines and that sort of thing and we have some good room to grow now in that direction, but going to the left hand side of the brewery, it allows us to potentially look at new brewing equipment and look at expansion of that side of the Brewing process."
Most of the Assembly were also looking festive for the holiday season. Nankervis was excited to wear a Santa hat and Kiehl sported a tie with dogs wearing Santa hats.