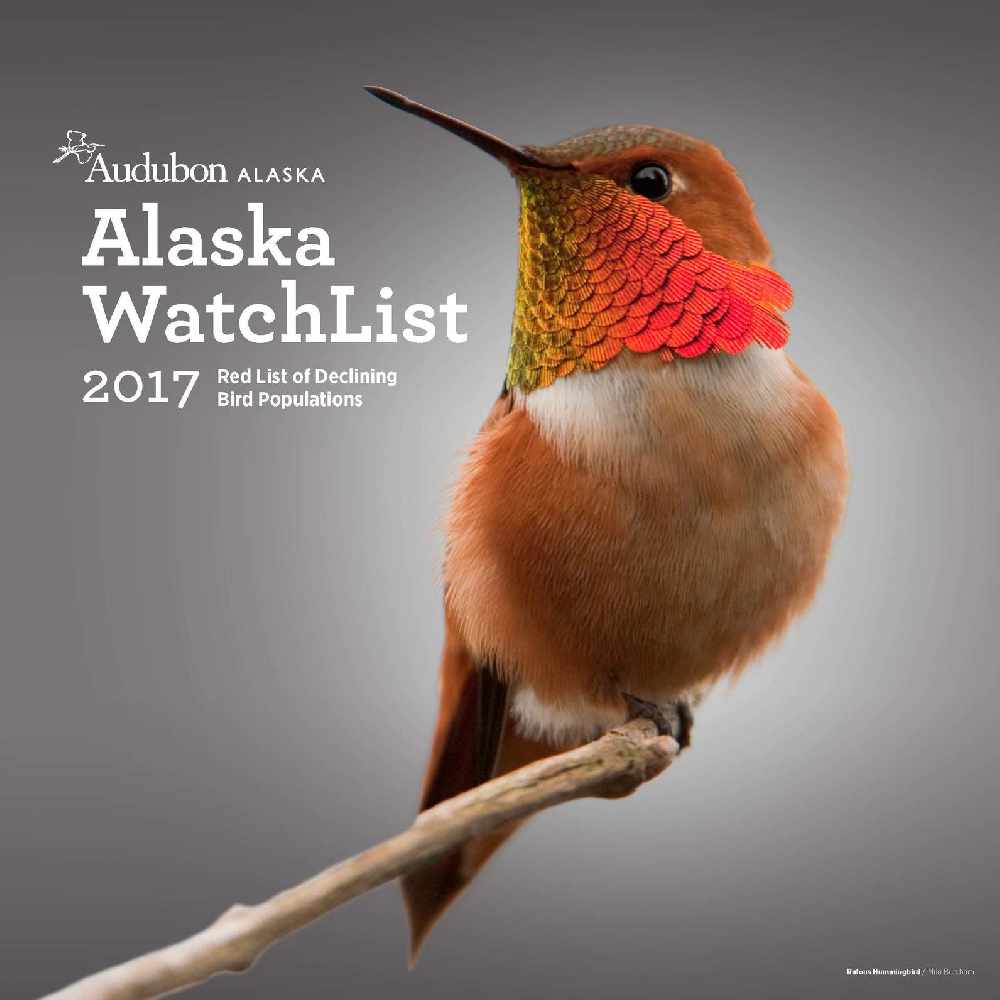 Juneau, Alaska (KINY) Audubon Alaska released the Alaska WatchList 2017, a red list of declining bird populations.
Executive Director Nils Warnock spoke to the Juneau Audubon Society Thursday night at the UAS Recreation Center.
He told the crowd that climate change is impacting the population of birds across Alaska. The loss of permafrost, more wild fires in the tundra and a 20-percent loss of wetlands and shallow ponds have impacted various bird populations. Other factors are a gradual warming of the climate and a loss of sea ice.
For example Bank Swallows have declined 92 percent in North America. Violet Green sparrows have declined 19 percent and Olive Sized Flycatchers are down 78-percent. A decline in the number of insects, mostly due to pesticides, have also impacted birds.
There are some success stories. The Emperor Geese, once threatened, now has over 81,000 in Alaska and limited hunting was allowed in 2017. Short tail Albatross, while still threatened, saw populations increase to over 4,000 in Alaska.
Warnock said they need more data to better manage species and it's hard to be really optimistic about birds.
The annual watch list is published every 5-7 years. The watch list takes into consideration the global population size, the range occupied, stewardship or waht percent of the global population is in Alaska and population trends. 35 percent, of 15 percent of the species, are listed on the red list which contains species that are declining or vulnerable. These include the Yellow-billed Loon, Red-necked Grebe, Short-tailed Albatross, Red-faced Cormorant, Canada Goose, Greater Scaup, Spectacled Eider, Steller's Elder, Black Scoter, Blue Grouse, American Golden-Plover, Lesser Yellowlegs, Bar-tailed Godwit, Red Knot, Pectoral Sandpiper and Sharp-tailed Sandpiper. Others on the list are the Dunlin, buff-breasted Sandpiper, Ivory Gull, Black-legged Kittiwake, Red-legged Kittiwake, Aleutian Tern, Marbled Murrelet, Bittlitz's Murrelet, Tufted Puffin, Horned Puffin, Snowy Owl, Rufous Hummingbird, Olive-sided Flycatcher, Western Wood-Pewee, Olive-sided Flycatcher, Western Wood-Pewee, Violet-green Swallow, Bank Swallow, Gray-headed Chickadee, Orange-crowned Warbler and Blackpoll Warbler.
The watch list is a science=based warning system to identify birds at risk. It focuses attention on vulnerable and declining bird populations across the state. The Red List has the highest level of concern and species are currently declining or depressed from a prior decline. The Yellow List is somewhat of a lesser concern. The species are vulnerable but populations are either, increasing, stable or unknown.
Warnock said there are 38 species of shorebirds in Alaska and 21 percent are in decline and another 32 percent are considered vulnerable. The report said 34 percent of waterfowl are either in decline and or vulnerable.
The Juneau Audubon holds the annual Christmas bird count on Saturday, December 16th at 8 am at the IGA. They will cover a 15 mile territory in Juneau.