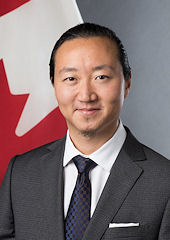 Brandon Lee, Counsel General of Canada in Seattle
Juneau, Alaska (KINY) Brandon Lee, the Consul General of Canada visited Alaska's capital to discuss provisions in U.S. federal spending on a ferry terminal in Prince Rupert Sound that would require the dock construction use only American Steel.
The dock would benefit the Alaska Marine Highway System. The project is estimated to cost $15 million. A new terminal was part of an agreement in a 50-year lease signed in 2013 between the Prince Rupert Port Authority and the Alaska Department of Highways, which operates the ferry between Prince Rupert and Alaska. It is essentially a U.S. ferry terminal being built on Canadian land or Canadian waters.
Lee met with Lt. Governor Byron Mallott and Department of Transportation Commissioner Marc Luiken to discuss issues like expansion of trade, improved business relations and several other items. "It was a fantastic trip. We are mindful of a provision to buy American steel. We believe in free trade and open competition and we advocate buying American in the. This is unique as the construction is in Canada. We don't see much of this. We asked Alaska to request a waiver to get flexibility on the provision to buy only American steel for the project."
Lee admits Canada could opt to build the facility themselves.
Lee said Canada will continue to work cooperatively on transboundary mining issues that impact southeast Alaska. "I wouldn't say we have tougher (environmental) standards but we are in tune with US standards. The frame works are fairly similar, we cooperate greatly. We have strong, high standards."

Another priority will be outreach to Alaska Native Villages. Lee said he wants to make sure the natives have the resources and economic opportunities they deserve and desire. "Opportunities are a concern to Canada. We are a nation of innovation and we want to find new ways to help stimulate native corporations, villages and rural communities."
Lee added that Canada is the largest trade partner with the United States as they spend nearly $1 billion per day in the United States.