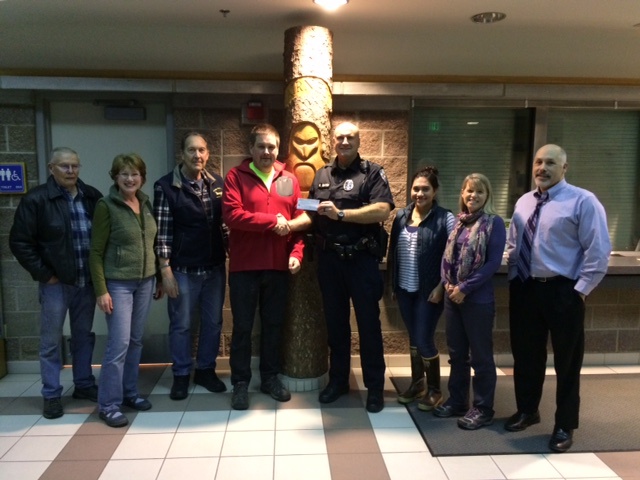 From Left to Right: Board Members Bob Kanan, Robin Paul, Eric Hansen, Kathy Hildre's son Jimmy Hildre, Officer Blain Hatch, Board Members Jessica Paul, Mindy Rowland, and Shawn Hooton.
Juneau, Alaska (KINY) This past summer, Juneau Crime Line / Crime Stoppers held a fun Whale Watch Fundraiser, thanks to the generous donation of the cruise from Allen Marine Tours.
The Crime Line Board dedicated that event to the memory of Kathy Hildre, a zealous and dedicated Board Member, who had a passion for the well-being of Juneau's youth. Crime Line also pledged that, in Kathy's honor, a portion of those proceeds would be donated to a program that benefited both Juneau's youth and supported the community outreach efforts of the Juneau Police Department. The program chosen was the JPD sponsored DARE program that two JPD officers (Officers Blain Hatch and John Cryderman) organize.
As noted on the JPD website, the D.A.R.E. (Drug Abuse Resistance Education) Program "is a school-based drug education program developed to help prevent drug abuse. This ten (10) week program places uniformed officers in the city's elementary schools' fifth grade classes, teaching children the facts concerning drug and alcohol abuse and strategies on how to resist the temptation to try them. This program also promotes self-esteem and enhances decision making skills."
Officer Hatch is an argent supporter of the DARE program, not only for the program's life lessons, but also because he feels it lets kids get to know police officers in a friendly environment. He shared that the friendship and trust built from the program remains for years and that kids he met through the program years ago still communicate with him.
The DARE program costs approximately $4,000 a year to operate, and Crime Line presented a check for $1,000 to Officer Hatch. Kathy's son, Jimmy Hildre, was on hand for the check presentation in December and reiterated his Mom's passion for Crime Line and that Crime Line's support for the DARE youth program was a fitting tribute to her.

Juneau Crime Line / Crime Stoppers is a local non-profit group comprised of local all-volunteer citizens and is entirely funded by local contributions. More information about the Reward Programs supported by Juneau Crime Line / Crime Stoppers can be found at JuneauCrimeLine.com. You can also follow us on FaceBook at Juneau Crimeline. Thanks to Allen Marine Tours, Inc., Juneau Crime Line will again be hosting a Whale Watching Fundraising Cruise on May 18, 2018.