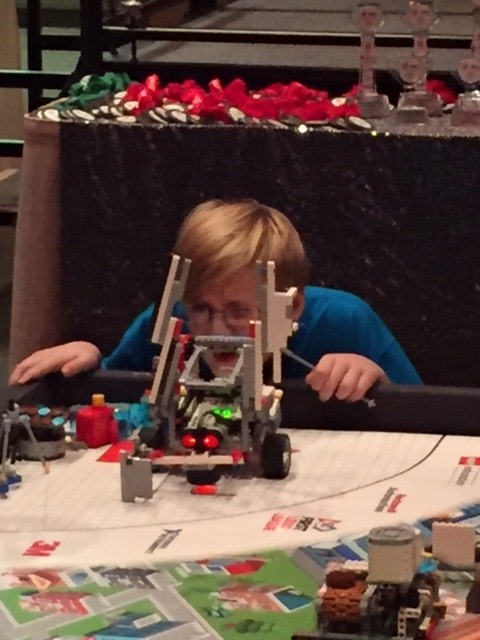 Ryan Kullander lines up the Team Ice Avalanche robot for a tricky run.
Juneau, AK (KINY)-Centennial Hall was full of excited young people Saturday, along with robots roughly the size of a gallon milk jug. The First Lego League brought elementary and middle school students from around Southeast to Centennial Hall to see who could instruct a robot to repair and alter a miniature water system.
Ryan Kullander was on Team Ice Avalanche. He says he was worried about the task that required the robot to run down the side of the table with the miniature water system as it had not worked in practice. Once it was for points, the robot performed the task. Kullander was trying to collect a fountain, a toilet, and a broken pipe.
The competition is more than just the robotics work. Kids have to research a current issue associated with the scenarios. The theme this year was "Water". The teams have to research and present on that topic. Coach Laura Buchheit was coaching the all-girls team from Gustavus. she said the girls worked hard not only on the programming but on the research and presentation they did about arsenic in the water. Buchheit says Gustavus has a problem with arsenic in the water and she is happy the girls picked an issue that is close to home.
Seanna Hines is a local parent, who daughter Lola was competing today. She agrees with Buchheit that learning robotics is only a part of the benefit to kids. Hines says the program lets the kids build confidence, learn teamwork, and communication skills. She is also touched that so many people turn out for the competition at this time of year when everyone is so busy.
The competition was a one day event, on Saturday.