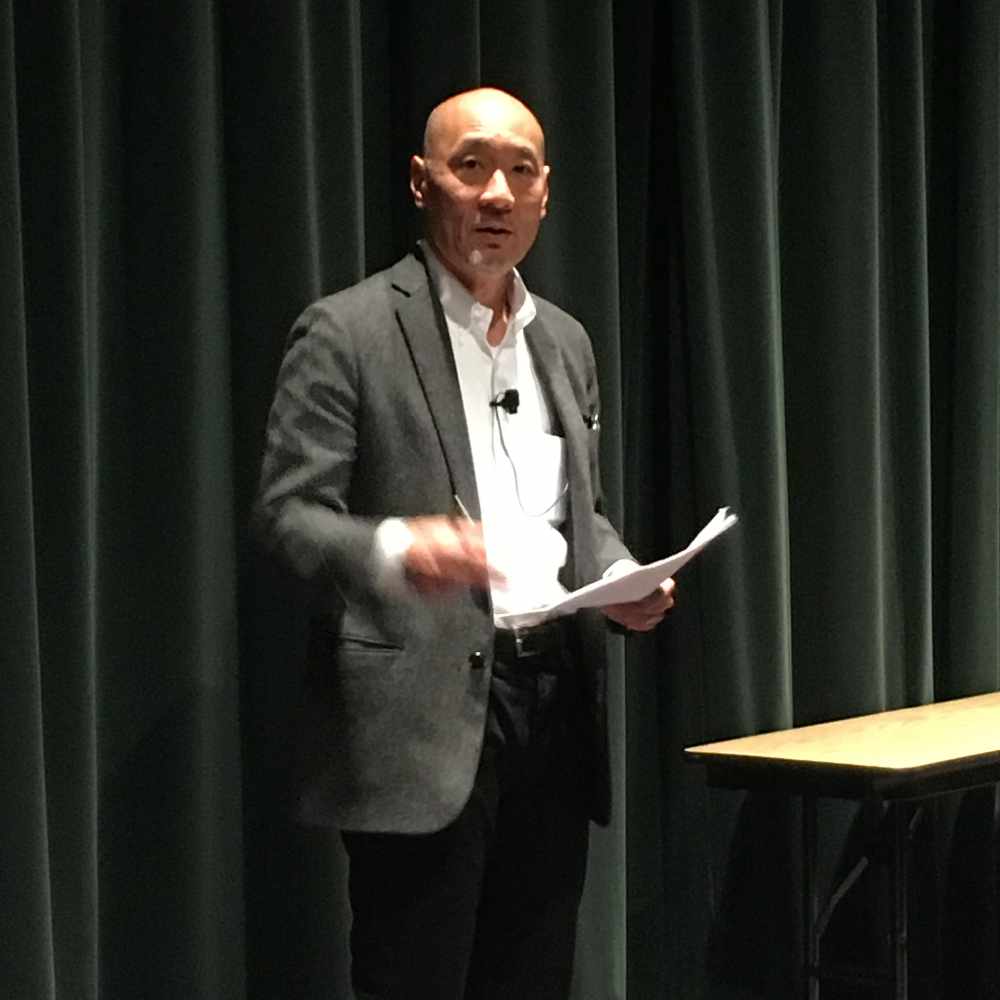 Phillip Yun speaks at the UAS Egan Lecture Hall Wednesday
Juneau, Alaska (KINY) - The Executive Director of Ploughshares, and former State Department senior advisor for North Korea Policy under President Bill Clinton, spoke to high school students at the University of Alaska Southeast Wednesday.
Phillip Yun said he worries the most about mistakes being made with nuclear weapons like the issue in Hawaii earlier this month where warning sirens went off and caused a panic, "What if that operator had a grudge or was mentally unstable?"
He said if a national alert went wrong, the President would have only 10 minutes to decide whether to launch one missile or thousands of missiles that each could cause 18 times more damage than the bombs that struck Hiroshima, Japan during World War II. "The real danger are mistakes and calculations and unintended consequences."
Yun said he is encouraged by talks between South and North Korea. However he is skeptical that real change will occur. He said it might just be a show for the Winter Olympics being hosted in Seoul, South Korea next month. He predicted more nuclear tests in North Korea, more tension, and more talks eventually with the United States.
North Korea is able to produce the materials needed for a nuclear weapon every eight weeks. The last missile they tested was 17 times bigger than Hiroshima. He said the bombs they have produced have become 12 times more powerful in the past year. North Korea has held roughly 100 missile tests in the past six years.
Yun said he is skeptical of U.S. claiming that they can knock out all the approaching missiles. He said if the North Korea regime fell, that also would lead to instability in the region with everyone trying to find missiles, which are spread out across the country. He said the current climate has a bad mix of personalities with North Korean Leader and President Donald Trump.
"It is all about staying in power for North Korea. No one understands what really is going on with North Korea's leaders, but they are not crazy," he added.
He said if American diplomats really took the time to understand North Korea's position, there could be negotiation and improved relations.
Yun said Ploughshares seeks to reduce the dangers posed by nuclear weapons around the world. He also was active in campaign work for presidential candidates Walter Mondale and Michael Dukakis during his career. He graduated from Brown University and the Stanford School of Law.
The speech was put on by the Juneau World Affairs Council.
Yun said he enjoyed his trip to Juneau Douglas and Thunder Mountain High Schools and came away very impressed with the students he met. He said they are the future and have the potential to end the nuclear threat in the world.