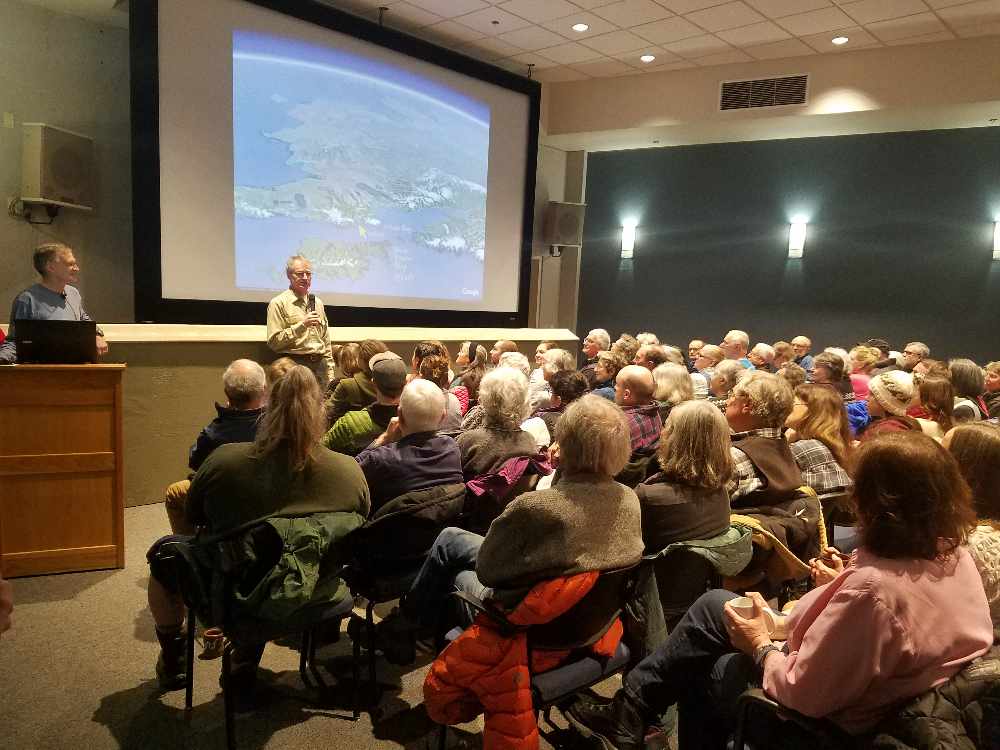 The Mendenhal Glacier Visitor's Center "Fireside Chat" on Friday Night.
The Mendenhall Glacier visitors center and Discovery Southeast Bookstore hosted photographer Jim Beedle.
In the fireside chat series at the Mendenhall Glacier Visitor's center on Friday night, Jim Beedle filled in for fellow photographer Mark Kelly on short notice for a talk put on the Discovery Southeast Bookstore.
Beedle spoke of the differences in the way that people treat bears in Kodiak as opposed to Juneau. While its common knowledge in Juneau to be very loud and tall when interacting with a wild bear, Mr. Beedle said that the strategy he employed in Kodiak was to remain low and quiet, because the females bears will use small groups of humans as protection from wandering males. The Alaska department of Fish and Game reports that 25% of bear cubs die before reaching maturity, and that the greatest contributing factor to those deaths is a male bear, who kill the cubs in order to force females back into their reproductive cycles.
Kodiak brown bears have litters of up to three cubs, and Jim Beedle showed photos of a sow with spring cubs of drastically differing size, suggesting that the sow was willing to adopt a cub.
The Next Fireside Chat will be on January 19th, at 6:30 and 8:00 PM. In it, speakers Paulette Simpson and Wayne Jensen will be presenting "The Rise and Fall of the Treadwell Mine." These events are free and open to the public.