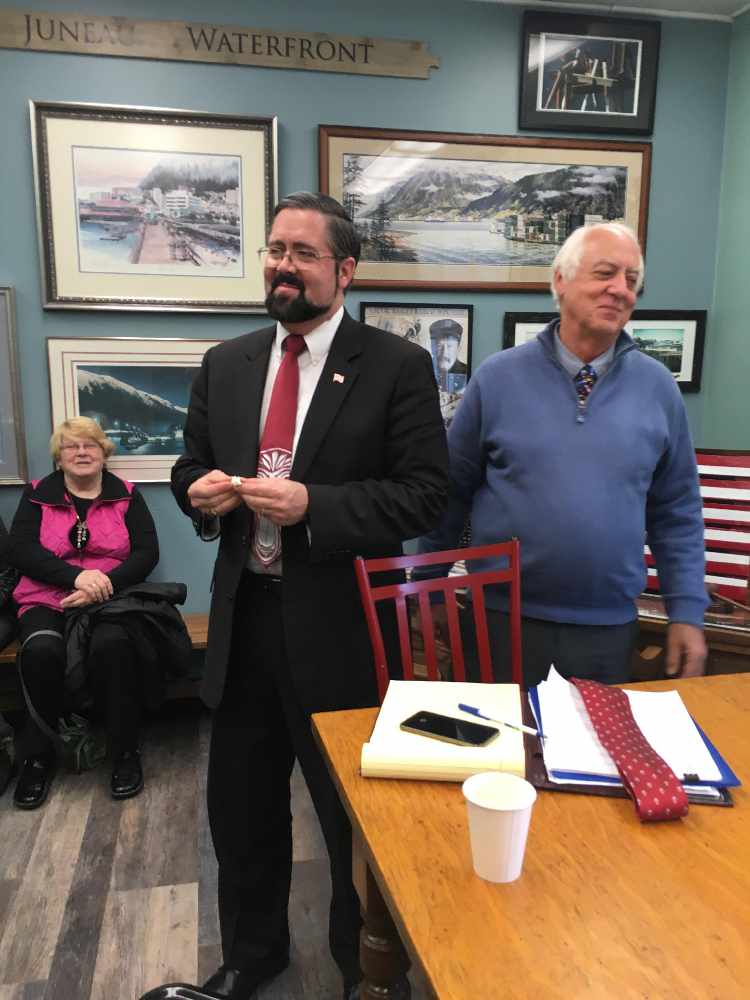 Michael Keays and Juneau Mayor Ken Koelsch (right)
Juneau, Alaska (KINY) A top ranking U.S. official visited Juneau in an attempt to get more interaction between Alaska and Russia.
US Counsel General to Vladivostok, Russia Michael Keays visited Juneau Thursday as part of the sister cities program.
Mayor Ken Koelsch gave Keays the key to the city of Juneau. Keays spoke on living there, his mission, the mission of the Counsel General to serve 140 Americans who live there, and ways to improve relations between the two nations.
Keays said there are investment opportunities for US companies and individuals in Russia, "If you are interested in mining, in pulling oil or gas out of the ground, harvesting of timber, these are all things that Alaskans have significant experience in. They have all that in the Russian far east. A good part of it is in the northern hemisphere. Alaskans have a lot of experience working in harsh environments and I think Russians could benefit from that experience and knowledge."
Keays said the society there is more open and has more cultural opportunities than in the past. He compared it to living in California. Differences include the harsh weather, and no large supermarkets. Snow removal is also a challenge in that part of Russia.
Keays said if the Russian people are interested in the ongoing probe of the Trump Administration and possible Russian interference with the US Presidential election in 2016, they don't share those comments to him, "I do think they care about it in the sense that they are sad to see anything that hurts the US Russia relationship. A lot of people I speak with would like to see relations like we had in the 1990s. They understand that two large countries won't agree all the time. They don't want things to occur that chip away at the agreements we already have."
The region has about 700,000 residents. The Counsel General helps with passports and other services.
Keavys also plans to visit Anchorage and Fairbanks. His top goals are encouragement of college student exchanges, tourism, business investment and improvement of relations.
He invited Juneau to put a delegation together to visit Vladivostok in the future.
Barbara Burnett of the Sister Cities Committee in Juneau said they currently have sister city ties with three cities, Vladivostok, White Horse, and Klibo, in the Philippines. She said they would like to add two new members to the committee and would like to get more people involved. Other cities could be sister cities with Juneau like some in Norway.
"I think today's event shows a lot of promise. We have not had a lot of contact with Vladivostok in several years. We are working on that. We envision meeting with them, talk about business and interests and how it would fit in with Juneau interests. Our committee is very small but we hope to facilitate people who have interest from both sides."
The Sister Cities Committee factsheet is on the CBJ website at https://beta.juneau.org/clerk/boards-committees/boards-master-list and the Resolution 2716 governing them and setting out their mission is attached to this email. I've also attached a copy of the committee's annual report as provided to the Assembly Human Resources Committee at its meeting of Feb. 13, 2017 and is also available online at https://packet.cbjak.org/MeetingView.aspx?MeetingID=550&MinutesMeetingID=621&doctype=Agenda
The committee's regular scheduled meeting are held on the third Monday of each month at 5pm in the Downtown Library Small Conference Room. However, due to the Martin Luther King Jr. Holiday (1/15/18) and the President's Day Holiday (2/19/18) their Jan/Feb meeting schedule is Monday, Jan. 22 and Tuesday, February 20 instead.