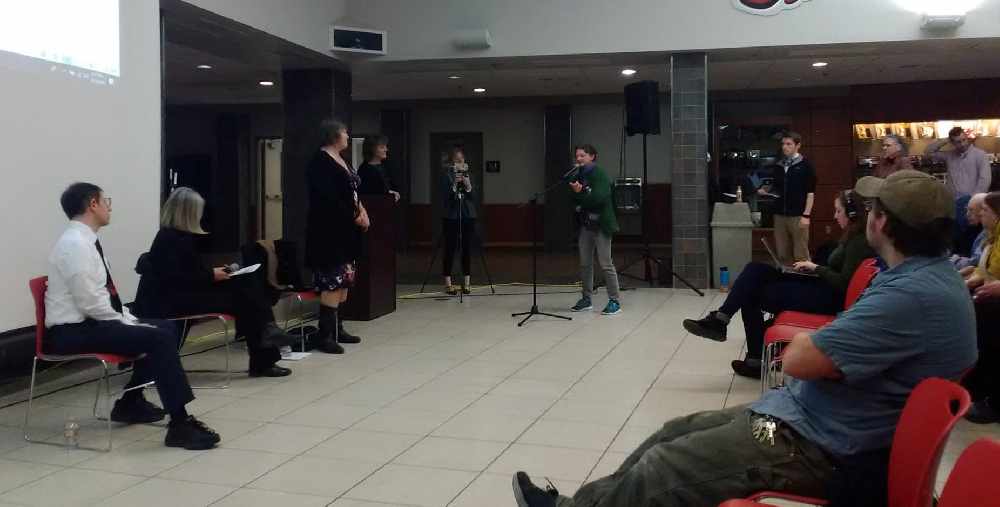 Sen. Jesse Kiehl, and Reps. Andi Story and Sara Hannan hear from members of the public.
Juneau, Alaska (KINY) - A town hall meeting on the proposed budget of Gov. Michael J. Dunleavy was held Tuesday night at Juneau Douglas High School.
The event was the second meeting sponsored by the Juneau legislative delegation of Sen. Jesse Kiehl and Reps. Sara Hannan and Andi Story.
Nearly 200 citizens attended the event, which featured Legislative Finance Director David Teal.
Teal offered a Powerpoint presentation that showed his explanation of the budget offered by the governor. In the presentation, Teal said expenditures should not match revenue every year because doing so "would destabilize the economy." He also said that "expenditures have declined in recent years, but not as far or as fast as revenue."
Teal has previously told legislators that the state's budget could enter a "death spiral" if savings are spent in an unsustainable manner. Teal has also said it's unrealistic for lawmakers to vet and make decisions on Gov. Dunleavy's budget proposal during the regular session given the scope of proposed changes and limited documentation supporting those changes.
Expenditures, Teal added, are stabilized by depositing surplus revenue into the reserves and by drawing from reserves to fill deficits.
Teal also said the actual level of cuts suggested by Dunleavy is closer to $600 million, not $1.6 billion, and that the "cuts" are actually cost-shifting to the municipalities across the state.
While taking questions from the audience, Sen. Kiehl and Rep. Hannan said the discussion will, in coming years, have to involve considering an income tax.