JUNEAU, Alaska (KINY) - The Navy destroyer USS O'Kane is scheduled to dock into Juneau Saturday around noon following their participation in Exercise Northern Edge 2017.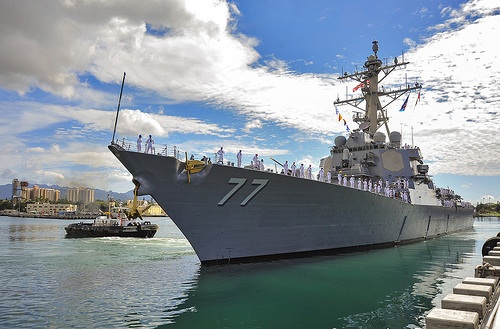 Port Director Carl Uchytil tells us it's a destroyer home ported in Honolulu and it's going to be Juneau until around May 18th.
Although no public tours of the ship are to be given, there will be plenty of opportunity to meet with the sailors during their stay of five days.
Uchytil explained the city's Adopt-A-Sailor online program, where people can sign up to connect with sailors while they are in town. "The volunteers can reach out and invite a sailor home for a home cooked meal, take them hiking, or show them around town," says Uchytil. "We just want to show them the friendliness of Juneau."
Find more information on how to adopt a sailor here on the city website.
Additionally, the U.S. Pacific Fleet Band's Harbor Brass ensemble be performing from 11 a.m. to noon Saturday at Marine Park, and again from 3 p.m. to 4 p.m. in the Hangar Ballroom.
There will be a wreath laying ceremony Tuesday at 2:00 p.m. at the U.S.S. Juneau CL-52 Memorial Site (a 3 min walk South of the GoldBelt Tram located on S Franklin St.) with Uchytil as Master of Ceremonies and Mayor Ken Koelsch and representatives from the USS O'Kane participating.