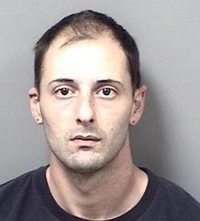 Kanin Robert Grant
Petersburg, Alaska (KINY) Authorities are looking for a Petersburg man after a grand jury indictment was handed down in Juneau.
An ongoing investigation by the Alaska Bureau of Investigations Technical Crimes Unit led to the indictment of Kanin Robert Grant, also known as Robert Carle, on 12 counts related to the possession of child pornography.
A warrant was issued for his arrest. The suspect is a former resident of Citrus County Florida, the Ocala area, where he is wanted on charges of animal cruelty.
Anyone with information as to the whereabouts of this suspect are asked to contact Alaska State Trooper Robert Bressler of the Technical Crimes Unit at (907) 269-5511.
The charges carry with it a potential sentence of between two and 99 years per count. The indictment is only a charging document and Mr. Grant is presumed innocent until proven guilty beyond a reasonable doubt in a court of law.