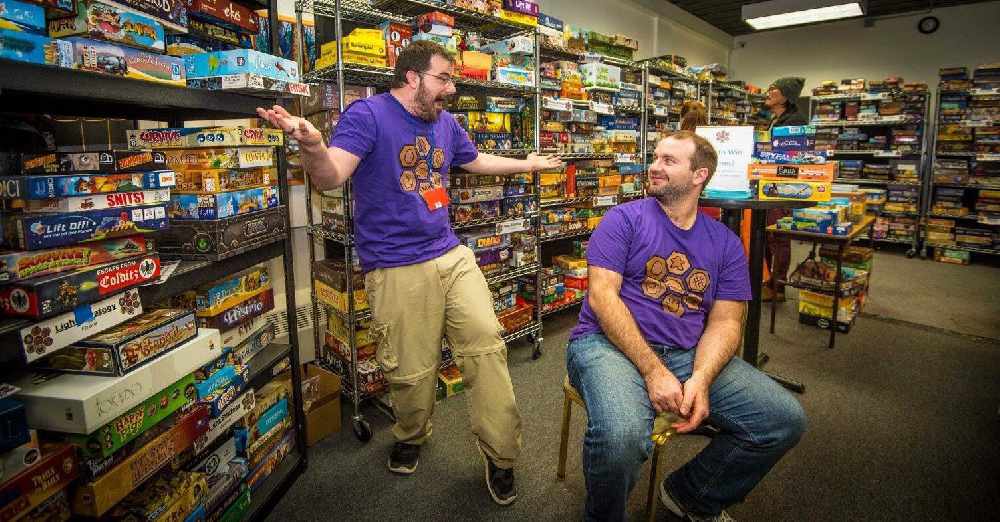 Juneau, AK (KINY) - The fourth annual Platypus-Con brings players of board games, role-playing games, and collectible card games together for a weekend of fun at Centennial Hall in Juneau. 
The rattle of dice, the laughter of players around a table, the telltale fwip of cards drawn from decks, all of this are the sounds of board gaming. With all time classics like Monopoly or Boggle, to games that require a bit more imagination like Dungeons & Dragons or Pathfinder, board gaming is a hobby that has brought families together for hundreds of years. Even the Egyptians had board games.
Juneau is a place where hobbies are important. Extreme weather can sometimes deter people from being outdoors. Gathering around a table for a game is a social experience and can really bring families together. Today board games fill the shelves of book stores and hobby shops, being more prevalent than they were a decade ago. Designers from all over the world have created new ways to play at the table and Juneau has its own convention to celebrate the hobby, make some new friends, or discover a new game. That convention is called Platypus-Con.
Josh Warren, President of Platypus Gaming, gave us a rundown of what to expect at the convention.
"It is essentially a full weekend of open gaming; we have a huge library of games you can try or we have demonstrations and tournaments of some games as well. We also have some people who show up for wargaming, plus some DMing role-playing games."
Warren also talked about the con growing large enough to warrant a new location.
"This is our fourth year doing Platypus-Con. The first year was fairly small, around a hundred people at the JACC and every year we have slowly grown, to the point where we didn't have enough space for everyone to play who wanted to last year. So now we're in Centennial Hall for our fourth year."
Warren also told us the origin of the board gaming convention.
"I think the originating thought was that we knew a lot of different gaming groups and felt there's enough people in town to all just get together and have a fun event over the weekend. We have play-to-win games, so people can come and have a chance to win a game just by playing it. Also there's just a lot of games that I don't think people know about, so we also like introducing people to the board gaming hobby. New players are definitely welcome."
For the past five years or so, a resurgence of board gaming has emerged with the advent of crowd sourced projects. Warren weighed in on this new era of board gaming.
"Kickstarter has definitely helped, which is great because a lot of people who have their own designs can go through crowd-funding to get it published, where they would have had to try to go through a publisher before. I think a lot of things can thank the internet; the ability to learn about and know about different board games has exponentially increased. It used to just be whatever you saw at your store, but now you can find out about new games everywhere. For example, we have some that are only made in Europe and I would have never known about them 10 years ago."
Warren assured that there is a game for everyone.
"I'm pretty sure I could find a game for someone to enjoy, because there are just so many. There are ones where you have to have a high dexterity, there's high strategy, there's some that are just chucking dice and having fun. I think there is a game for everyone and I'm happy to try to find it."
We asked how much a badge for the event will cost.
"It is $30 for an adult for the weekend and $15 for children, but if you buy before the end of the year it's $25 and $10."
We also asked Warren if he's ever considered designing his own tabletop game.
"Oh, I would love to have more games with a platypus in it, because it's my favorite animal, but I don't think I have the the headspace for design. As much as I like enjoy other people's designs, I'm always like oh that was really interesting design choice and I would have never thought of myself."
The event takes place in Centennial Hall in Juneau on January 26th - 28th. Tickets can be purchased online at PlatypusGaming.org