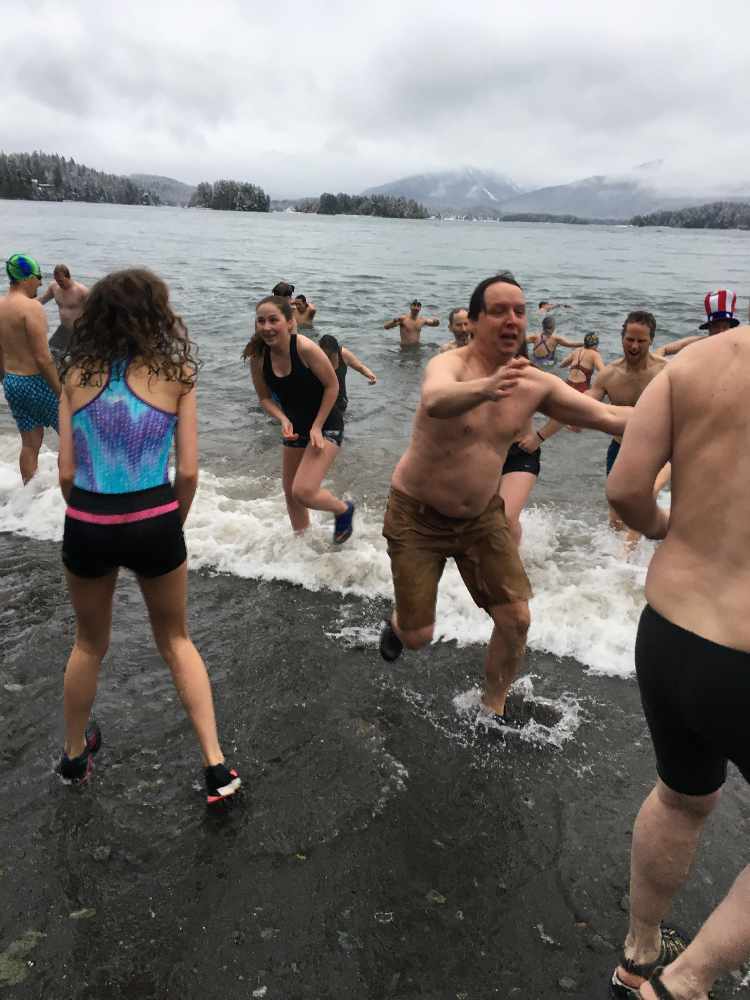 Juneau residents enjoy the annual polar dip
Juneau, Alaska (KINY) Well over 100 people took part in the annual polar dip at the Auke Recreation Area Shelter on New Years Day keeping up an over 20 year tradition in the community.
Carl Brodersen admitted he is terrified each year before he dives in but really likes the payoff, "When you finally go for it, in 30 seconds you feel fantastic." He said he feels wild exuberance and exhilaration after each trip into the water, estimated to be under 40 degrees.
Coordinator this year Mari Carpeneti said the turnout was excellent and the winds calmed down at the right time. "I've done this for 20 years but I'm still pretty nervous before each dip because its so cold." She said many of the people do it to get the New Year off right. Some even make resolutions for the year as they jump in.
The event began in 1992 when a small group of six people took part to ring in the year.
Mike Greene has attended several. He said it is a fascinating event and a great way to kick off the year, "I've never done this on purpose, I've been thrown in a few times but never went in on my own power."
Rosie Ainza, who helped coordinate the event this year, got to start the event on the bullhorn. She has attended since 1996 when she was in middle school. "It is pretty fun. You go from a teenager to your wild 20s and it is a great hangover cure. You bring your kids to it and it is like being a kid again."
The tide was high, which helped, as runners didn't have to run across a lot of rocks to get into the water.
"It literally freezes you," Ainza said, "It also stops you from thinking about anything but your body. It is so cold and such a foreign feeling to be that cold. As soon as its done, you feel exhilarated, detoxified and 12 years younger."