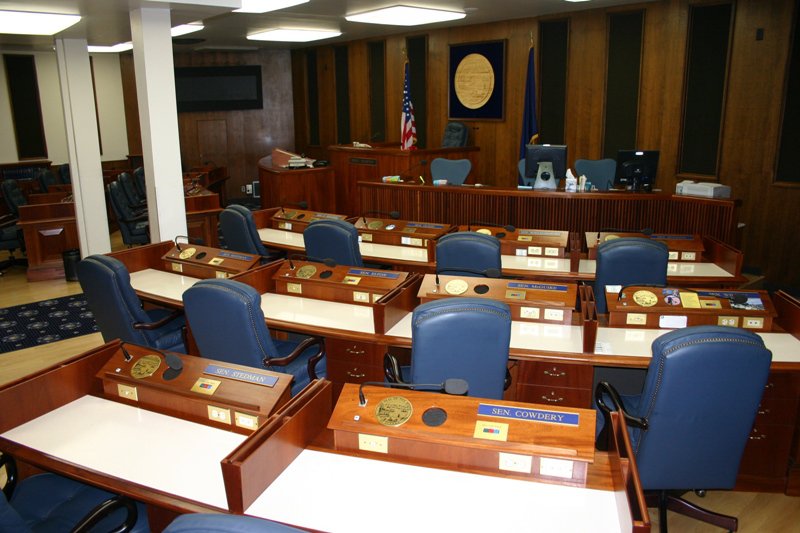 Juneau, AK (KINY) - Official statements and other documents have been released on the allegation investigation of Sen. David Wilson involving a female staff member.
The Senate Rules Committee released publicly two documents: a report by the nonpartisan Legislative Affairs Agency investigating allegations against Wilson, and a memo by Legislative Legal services outlining the appropriate process.
The Investigatory Report from Skiff Lobaugh, the Human Resources Manager, is dated for November 30th and outlines all of the resources that were gathered and what Lobaugh said of the incident. According to this report Wilson was attempting to "playfully" record a meeting behind a closed door and had his cell phone out. That phone was at skirt level for four seconds and then Wilson left. The House Staff Employee was reportedly standing with her back against the wall to the door during the exchange. Below are Lobaugh's conclusions from that report.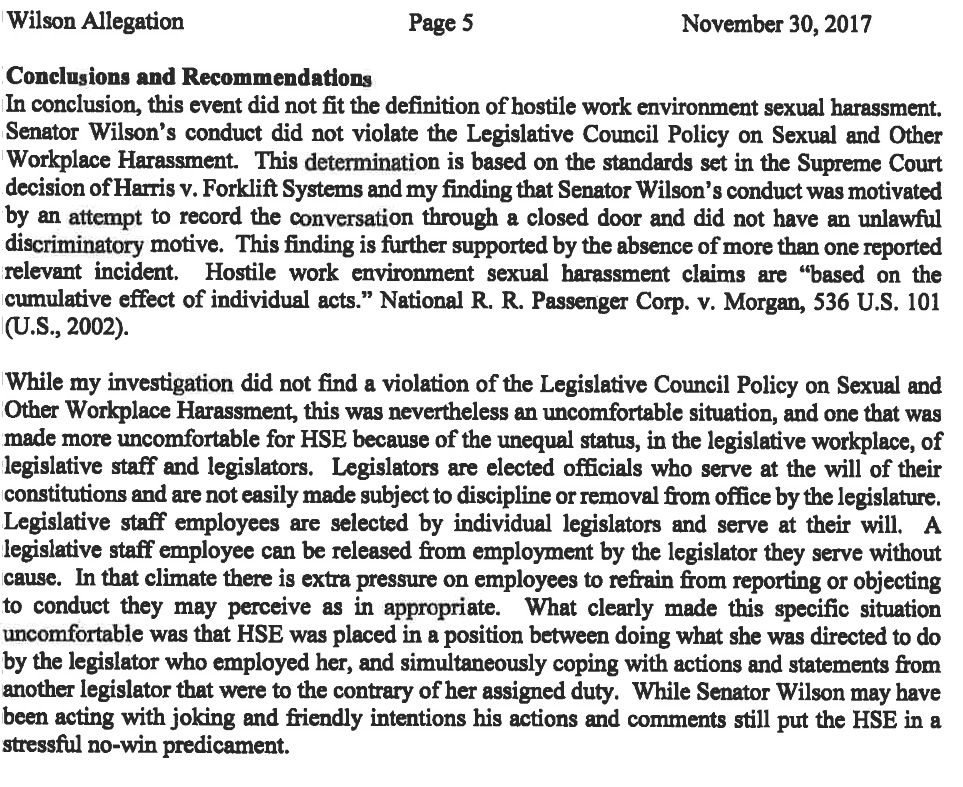 A statement attributed to Senate Leadership reads as follows:
"The Alaska State Senate will responsibly and transparently investigate all issues that potentially compromise a safe and respectful workplace. The Senate takes very seriously the protection of all legislative employees."
"Further, Senate Leadership has heard House Speaker Bryce Edgmon's concerns of potential retaliatory actions in this matter. We also take allegations of retaliation very seriously, and are in the process of investigating to determine if additional action is necessary."
Senate Minority Leader and member of the Senate Rules Committee Berta Gardner also sent out a statement in regards to the report.
"Senator Wilson took out his cellphone, placed it down at the level of the hem of her skirt from a foot away for four seconds, saying he was going to record a closed meeting of House leadership. This behavior is consistent with what the staffer reported at the time. Such behavior is clearly intrusive, intimidating, and inappropriate to the staffer. It is also grossly unprofessional and unethical behavior from anyone, let alone a sitting member of the Senate.
"Coupled with the fact that Senator Wilson slapped a political reporter across the face in the Capitol building a short time before this incident, it demonstrates a disturbing pattern of poor judgement, bullying, and aggressive behavior. Senator Wilson should acknowledge his bad behavior, and apologize immediately to both the reporter and the staffer, taking full responsibility for his actions."
For now, it looks like the investigation will continue. No matter the outcome of this investigation into Sen Wilson, there will likely be changes to policies as there is a working group looking at ways to improve the safety of all legislative employees.
Here are the two publicly released documents in full:
report by the nonpartisan Legislative Affairs Agency
a memo by Legislative Legal Services outlining the appropriate process