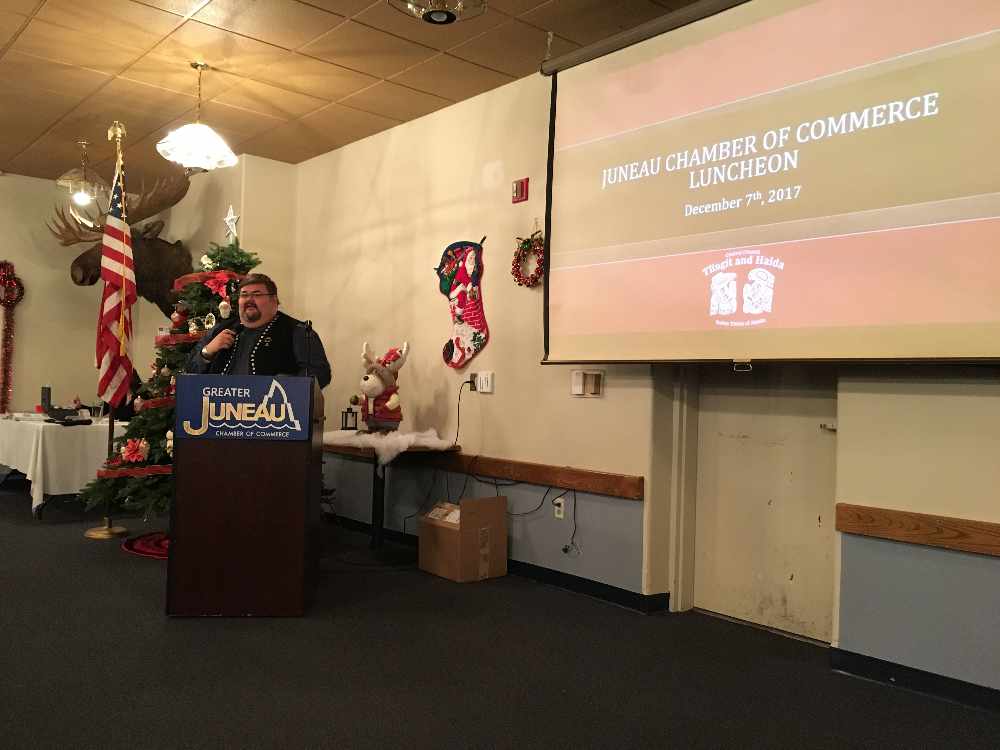 President Richard Peterson spoke to a packed house at the Moose Lodge Thursday
Juneau, Alaska (KINY) President of the Central Council of the Tlingit Haida Indian Tribe, Richard Peterson, was the featured speaker at the Greater Juneau Chamber of Commerce luncheon Thursday.
Peterson said goals for 2018 include a $7.1 million project known as Immersion Park. It would be developed at the Thane Ore House. He explained the old restaurant and Docks and Harbors Property could be developed into workshops, vendor spots, a stage, museum, and other amenities. They got a lease for the property and want to tear down the old building.
Mr. Peterson, in an interview with KINY, said other goals are continued increase in services for natives, more partnerships with the community, more outreach to native villages and continued efforts to combat the opioids problem among tribal members.
He said the tribe has a great economic impact on the community as they employ 184 people and provide an annual economic impact of $25 million. That impact includes $10 million in annual payroll.
Peterson also emphasized the tribes work to improve the job skills and vocational training of members. They currently serve 30,000 individuals world wide and 20 percent, 6,000 of them live in Juneau.
A guest at the luncheon was one of the tribe's most famous athletes, Damen Bell Holter, 27. He visited local school kids Thursday. He played high school basketball at Ketchikan High School, went to college at Oral Roberts, and went on to play with the Boston Celtics and overseas. He is now retired and is enjoying his free time. He said he also enjoys working with young people. Holder said the best NBA players he ever competed against are Kevin Durant of the Golden State Warriors and Russell Westbrook of the Oklahoma City Thunder.
The tribe is now the second Capital member of the Chamber which cost $10,000.
President Richard Burns said he was very pleased to see their involvement in the Chamber. "It's right and it's fitting that they're involved with the Chamber."