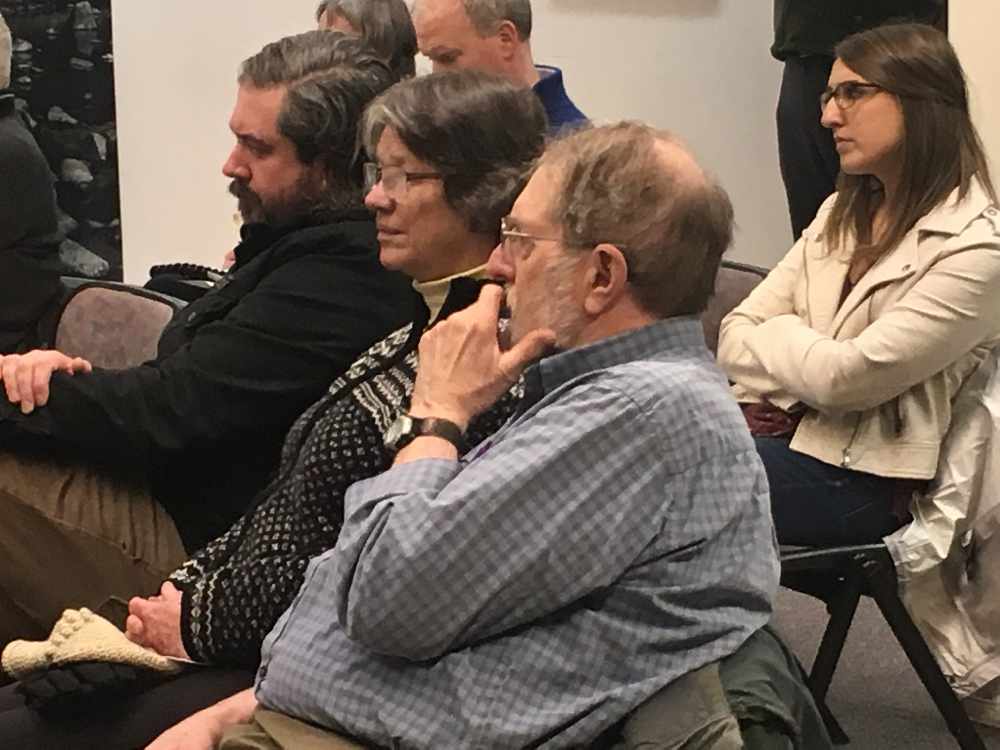 50 people attended a town hall meeting to discuss the state budget
Juneau, Alaska (KINY) - Proposed state budget cuts could result in a loss of $13 million to Juneau Schools.
State lawmakers have called for a compromise. Even Senate Republicans would like to phase in budget cuts over three years.
Others criticize the Governor and predict the state spending will just be passed down to local governments and local taxpayers.
Juneau would see cuts to school bond debt reimbursement of $7.1 million, $400,000 in municipal fish taxes, $10 million in school funding, several million in cuts to the University of Alaska Southeast, and $6.2 million in medicaid funding. As a result of state cuts, the CBJ would have to reduce the amount of local share for education by $3 million.
City Manager Rorie Watt said the school bond reimbursement has encouraged a number of communities to renovate and improve schools.
Watt said Juneau would also be significantly impacted by cuts to the Marine Highway System. He indicated that a privatization proposal for the ferry is likely to be considered. "The point to the ferry system is regional transportation for economic development and cultural exchanges between our communities. The ferry system is the glue that holds communities together absent a road system for island communities."
Cuts to the University system would also impact the economy, cultural programs, and local schools.
"We frankly have no idea what that means."
Another proposal is to eliminate early childhood education funding. School Board President Brian Holst said that would include head start and perhaps state match to federal funding. "Direct support to families with income needs and programs would all go."
Cuts to medicaid could result in the hospital increasing the costs of treatment for other patients.
The options for the CBJ to offset the loss in funding is spending out of savings, cutting programs or increasing property taxes.
The cuts to the school system could result in substantial reductions in teachers, maintenance, programs, and administration.
"This is very real. I don't want to dampen your fears about this budget," he added. "Don't panic but engage."
Watt also mentioned that proposed property tax laws on natural resources could mean negative impacts on credit ratings for many municipalities.
Watt said never in the last 40 years as the governor proposed such a radical change to state institutions. He invited citizens to make comments to the legislature. The CBJ went on record last week to oppose the state budget.
Mayor Beth Weldon urged the citizens to remain calm and talk to the legislators about their priorities.
She said governor Mike Dunleavy has relied on two polls that show most Alaskans support a reduction in government spending and another that shows a majority of Alaskans support a larger PFD.
Another town hall meeting will be held Tuesday night at 5:30 p.m. and feature members of the Juneau state delegation. It will be held in the commons area at Juneau Douglas High School.