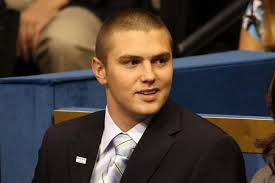 Track Palin
Wasilla, Alaska (KINY) Authorities said Track Palin was defiant and insulting to officers as they investigated claims he had assaulted his own father Saturday night.
Charging documents released Monday showed Police were called to the Palin home Saturday after the former Governor, Sarah Palin, told them her son was freaking out and on some kind of medication. The affidavit went on to state that Todd Palin was found bleeding from cuts to his head when officers arrived. It went on to state that Track Palin, 28 had called the home to retrieve his truck, was told not to come, and then said he was going to the home to beat up his father. The father said he then retrieved his pistol to protect his family.
The report said Track broke a window into the home, disarmed his father and put him on the ground. He reported was disrespectful to the officers as he allegedly yelled at them, called them peasants and was moving around in a stranger manner.
He was arraigned on charges of burglary and assault Sunday and a preliminary hearing is scheduled in the case this week.