The vehicle continued until it struck a house, lodging the forward half of the truck inside the residence.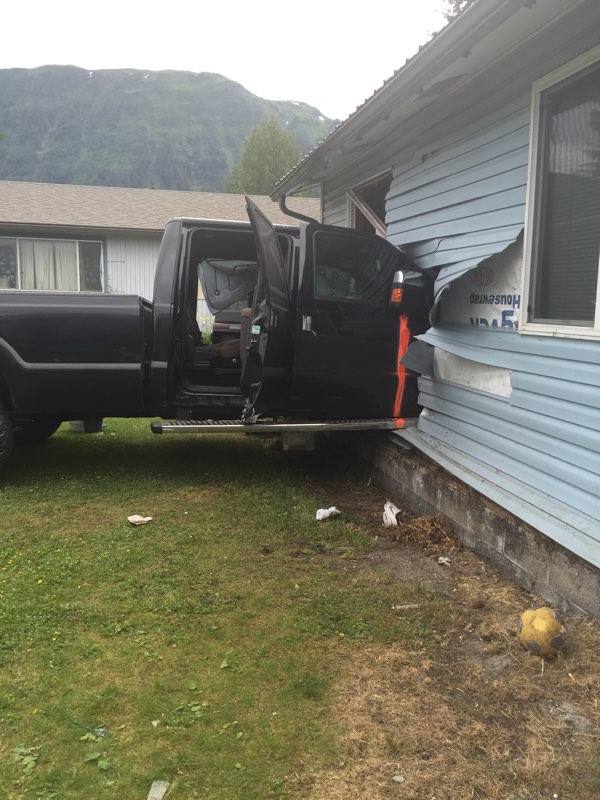 UPDATE SATURDAY NIGHT:
Juneau Police report one fatality after a vehicle crashed into a house in the 3700 block of Julep Street in the Valley Saturday morning at about 9:33.
The driver died, but the occupants of the home are safe.
News of the North spoke with the owner of the home. Scott Philip is thankful his grandchildren are o.k.:
Scott says the damage was so bad, the family is staying in a hotel:
(Photos courtesy of Letha Bethel - SPLIT PHOTO TAKEN DAYS BEFORE CRASH SHOWS WHERE FAMILY USUALLY PLAYS IS WHERE CRASH OCCURRED)
---
UPDATE SATURDAY AFTERNOON:
Police say the driver was believed to be unconscious and pinned inside the vehicle. An off-duty Juneau Police officer, who was notified by neighbors, was one of the first people to assist.

Sgt. Brian Dallas explained:
"The off-duty officer found the male to be unconscious and not breathing and began CPR inside the vehicle. There was no fire and the smoke was believed to be from air bags deploying and dust particles from the collision with the residence. A second on-duty officer arrived on scene and together with a Good Samaritan, was able to remove the driver from the vehicle through a back door. Officers continued CPR until members of Capital City Fire/Rescue arrived and took over life-saving measures. The driver was transported to Bartlett Regional Hospital for continued life-saving measures.
Further investigation indicated the driver was traveling southbound on Julep St. when the vehicle drifted off the road, drove through the ditch, through the end of two driveways, and over a large flower bed. The vehicle continued until it struck a residence, lodging the forward half of the truck inside the residence.
The driver of the truck, identified as 63 year old Craig Stephen Temanson, was later pronounced deceased at Bartlett Regional Hospital. He was the only occupant of the vehicle. Next of kin was notified. No one inside the residence was injured.
The truck was estimated at a total loss at about $50,000.00 damage. The residence sustained an estimated $80,000.00 in damage as the majority of the house was shifted off the foundation. A portion of Julep St. was closed for approximately 3 hours.
An autopsy has been requested. Alcohol is not suspected to be a factor in this case."
---
ORIGINAL STORY:
Unofficial reports show Julep Street in the Valley was closed around 10:00 a.m. after a possible crash into a house. They also indicate occupants of the home are all safe.
Requests for more information from Juneau Police were not immediately returned.
Check back for more information from News of the North as it becomes available.