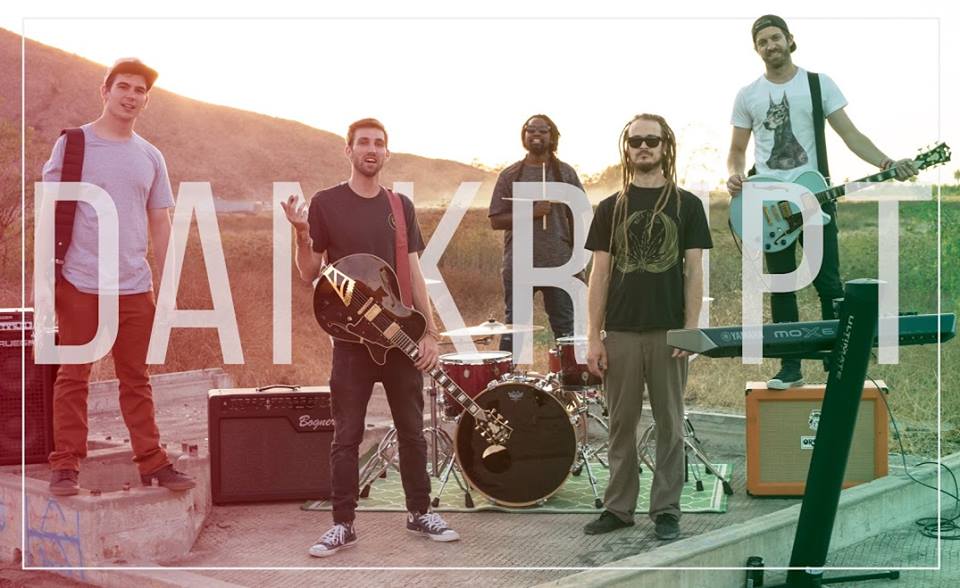 Juneau, AK (KINY) - The Winter Wipeout 1st Annual Music Festival is bringing the energy that seems to follow the lead act Dankrupt everywhere they go.
Returning to Juneau after a jam show on the docks downtown, the full band is back to show Alaska themselves through their music.
Dankrupt, described as a Calirock band, has been playing for a few years now. Grant, who plays guitar and sings, tried to describe where the Dankrupt style comes from and how it came to be.
Stylistically, it's just that diversity of each of us as musicians, as players, and living in California. There's just so much going on, there are so many diverse cultures, styles of music, venues. It's really like a beautiful blend of a lot of different things coming together to morph into something bigger than ourselves. It really is evolving day by day, but it's like a crazy blend of just California, Cali-Rock."
Justin, their drummer and newest member described what the music meant to him.
"I think it's all about honestly good energy, putting out positive vibes, that's what it's about. Every song is different and it can have a different message for anything, but it's all about positive vibes. If you feel good about the music, if you want to dance, if you want to watch, it's about everything."
Juneau-raised Nick Banaszak the band's bassist was excited to play at Thunder Mountain High School on Friday night and talked about that event.
"Friday is Thunder Fest, it's going to start at like 8. You can come watch a bunch of students play. There's a local band that's not going to be on the Saturday night Winter Wipeout show and then we're going to close out with a partial set."
"All those funds go straight to the band program helps out VK over there and the directors and allows the kids to go on trips or get instruments, so it's a fun rock show where they get to participate and then anyone who goes supports the whole program."
Nick explained how the Winter Wipeout Music Festival came together.
"Saturday's show is in partnership with Cancer Connection, a bunch of businesses have jumped on board with that, with fundraising, and helping out. So we've got a ton of help from all over the community. We were able to turn a show that was like, "Let's jam, let's throw something on, to let's make it a little deeper than that. Maybe, kind of like our music; we're just trying to go to a different level."
Enrique, who plays guitar talked about future plans for Dankrupt.
"We're planning to start working on four new tracks; we're actually going to play a lot of them here for the first time, so that's going to be really cool, but we're also trying new things. We are going to work with this new producer. Now we're trying to explore a new vision, a new sound. We're exploring that and we're really excited to show the people what we're going to be putting out next"
Grant talked about how personal the music is for Dankrupt.
"Instead of trying to create some massive idea of how we can make it, we're trying to exploit ourselves and who we are as a band and as individuals as musician. So through the music and through the videos we're trying to really just let the world know what we have to offer and see how we can make a change from town to town"
Tickets will be $10 for Thunder Fest. Saturday will be the Winter Wipeout Fest at the JACC starting at 7pm. The concert will also be fundraising for the Southeast Alaska Cancer Connection. Tickets are available at JAHC.org, either Hearthside Books location, or the Rainy Retreat Books. Winter Wipeout is a 21 and older event.
For full details on the Winter Wipeout event, check out the official Facebook event. For details on Thunder Fest, check out this Facebook event.
For more details on the band, check out a collection of info.
Find the full interview here