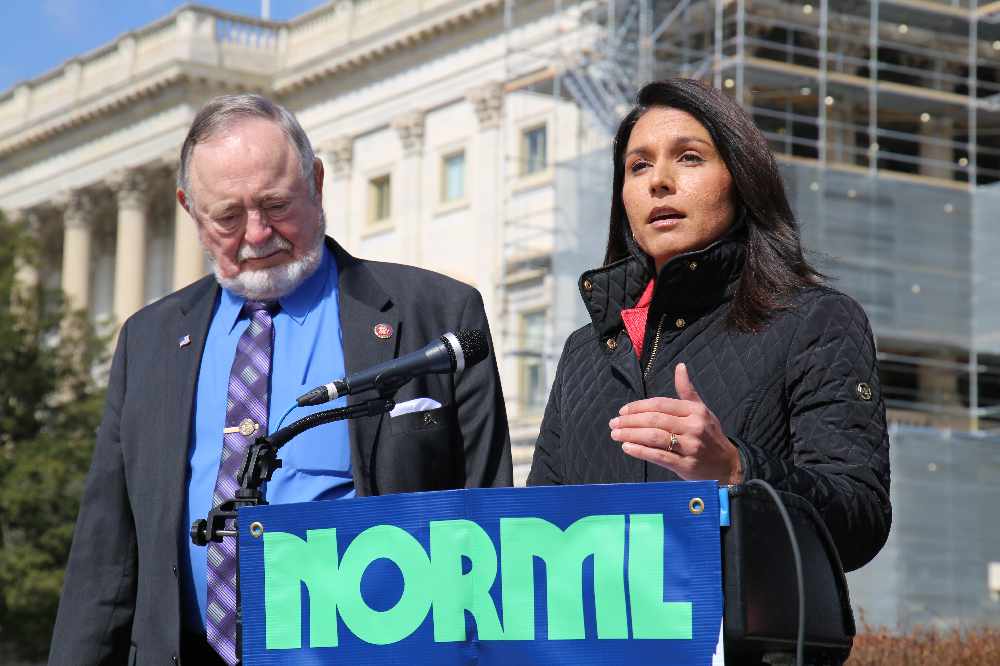 Congressman Don Young (left) listens to Congressman Tulsi Gabbard during a news conference
Washington, DC, (KINY) - Reps. Tulsi Gabbard (HI-02) and Don Young introduced two bipartisan marijuana bills:
The Ending Federal Marijuana Prohibition Act of 2019 would remove marijuana from the federal Controlled Substances list and allow states the freedom to regulate marijuana as they choose, without federal interference.
The Marijuana Data Collection Act of 2019 would study the effects of state legalized medicinal and non-medicinal marijuana programs from a variety of perspectives, including state revenues, public health, substance abuse, and opioids, criminal justice, and employment.
The lawmakers held a press conference today, along with NORML, the Minority Cannabis Business Association, the National Holistic Healing Center Medical Marijuana Dispensary, the Veterans Cannabis Coalition, and supporters, to urge immediate passage of these bills.
Rep. Tulsi Gabbard said: "Our archaic marijuana policies– based on stigma and outdated myths–have been used to wage a failed War on Drugs. Families have been torn apart, communities left fractured, and over-criminalization and mass incarceration have become the norm. In 2017 alone, our country arrested 600,000 people just for possession of marijuana. Our bipartisan legislation takes a step toward ending the failed War on Drugs, ending the federal prohibition on marijuana, and ensuring that our policies are guided by facts and the truth."
"I am a passionate supporter of a states' rights approach to cannabis policy. For too long, the Federal government has stood in the way of states that have acted to set their own marijuana policy, and it is long past time Congress modernized these outdated laws," said Congressman Don Young. "Since Alaska legalized marijuana, I have heard from many constituents – including small business owners – who have been impacted by archaic Federal marijuana policy that criminalizes them for selling marijuana-derived products otherwise legal under state law. Additionally, our nation's prisons are overcrowded with non-violent offenders who too frequently have their lives ruined by harmful and outdated policies. As co-founder of the House Cannabis Caucus, I am proud to introduce two pieces of bipartisan legislation with Congresswoman Tulsi Gabbard to get the Federal government out of the way of state-level policymaking. I look forward to working with Congresswoman Gabbard and my friends on both sides of the aisle to see these initiatives become law."